https://www.kpa.io/blog/osha-reporting-heres-what-you-need-to-know-to-make-reporting-easy
When someone is killed or seriously injured in the workplace, the incident must be reported to the Occupational Health and Safety Administration.
Most employers know this. And yet OSHA reporting requirements are sometimes ignored as other, more urgent matters take precedence. In the immediate aftermath of a workplace safety or health incident, rarely is anyone's first thought, "we need to report this to OSHA." Reporting, along with recordkeeping, can seem like an unimportant step or unnecessary paperwork—and get delayed or overlooked entirely as a result.
This is a grievous and costly mistake. If you don't record and report incidents to OSHA on time, you could face significant expenses and penalties. The minimum fine for a single late or missing report is $5,000.
Moreover, if you neglect your OSHA reporting and recordkeeping duties, you put your workforce and bottom line at risk. Reporting to OSHA keeps your organization in compliance and gives you the information and visibility you need to improve workplace safety and minimize incidents.
Here's what you need to know about OSHA reporting and OSHA recordkeeping: including what needs to be reported, the difference between OSHA reportable and OSHA recordable, exemptions from reporting and recordkeeping, and more.
Written
What Are OSHA's Reporting Requirements?
Employers with more than ten employees in most industries are required to keep records of occupational injuries and illnesses at their establishments. These records include…
OSHA 300: Log of work-related injuries and illnesses
OSHA 300A: Summary of work-related injuries and illnesses
OSHA 301: Injury and illness incident report
The OSHA electronic reporting rule
OSHA's reporting requirements have recently changed and now entail electronic reporting. Establishments with 250 or more employees that are currently required to keep OSHA injury and illness records, as well as establishments with 20–249 employees that are classified in certain industries with historically high rates of occupational injuries and illnesses, must electronically submit some information on an annual basis to OSHA. Moreover, organizations in regulated industries must submit 300A forms through OSHA's Injury Tracking Application.
OSHA Reporting – Key Dates:
February 1: Workplace Posting Deadline
According to OSHA, "Each February through April, employers must post a summary of the injuries and illnesses recorded the previous year. Also, if requested, copies of the records must be provided to current and former employees, or their representatives. It must be posted in a location that is clearly visible to all employees and new applicants, and it must be kept posted until April 30. In addition, employees have the right to request a copy of the records at any time."
March 2: Form 300A Data Electronic Submission Deadline
Submitted through the Injury Tracking Application. You don't have to wait until the 2nd to submit your data. Collection begins on January 2nd.
Have more questions? We've got lots of answers…
What Is An OSHA Recordable Incident? And How Do You Report Them To OSHA?
What Are The Different OSHA Reporting Forms And What Are They Used For?
When Should I Report To OSHA?
Why Keep Workplace Injury Records?
Don't let OSHA recordkeeping requirements take more time and energy than necessary.
KPA makes OSHA electronic reporting—and all elements of OSHA compliance and workforce health and safety—as easy as possible. Complete and file OSHA Forms 301, 300, and 300A quickly and accurately with KPA EHS Software.
Learn how we can save you time and money. Take a Test Drive >>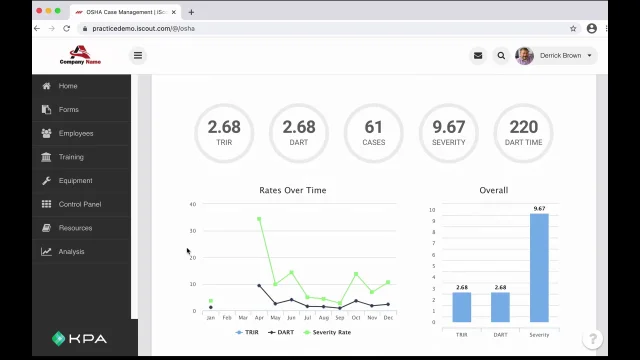 Written by Toby Graham/January 04, 2023 Access the original article here.